Digital sector: its expansion continues and confirms that it is a sector of the future
+7.4% is the estimated growth of the digital sector in 2022, according to Numeum, last July. This professional organization of the digital ecosystem in France has also published a report where it revises these figures upwards in its latest assessment in December, bringing this figure to +7.5%. A steady increase that shows the meteoric expansion of the digital sector. The opportunity for Fitch Bennett Partners to bring its expertise and analyze this figure.
"In 15 years, the digital market has experienced a beautiful growth trajectory and is experiencing a strong momentum again this year, which is stimulated by the digital transformation of organizations," note Godefroy de Bentzmann and Pierre-Marie Lehucheur, Numeum's co-chairmen. In the end, is digital technology a sector that is crisis-free? Numeum has observed a phenomenon over two particularly complicated periods. At the beginning of 2022, post Covid-19 crisis, the recovery is unequivocal for this sector. Its growth remains largely driven by its classic levers: the cloud and its implementation in many companies, big data, cybersecurity, IoT (editor's note: "Internet of Things") and accelerated digital transformation.
A continued growth in the IT and new technologies sector
This remarkable recovery is explained by "the strong increase in demand in this industry, driven by digital transformation but also by other structural topics such as application migration or other previously stopped projects that have resumed earlier than expected." This is especially true as we have observed that traditional companies had, even before 2020, a need to digitize themselves. A process that's been accelerated by the health crisis. Another factor is that the increase in cyberattacks in recent years has caused companies to reconsider investments in cybersecurity.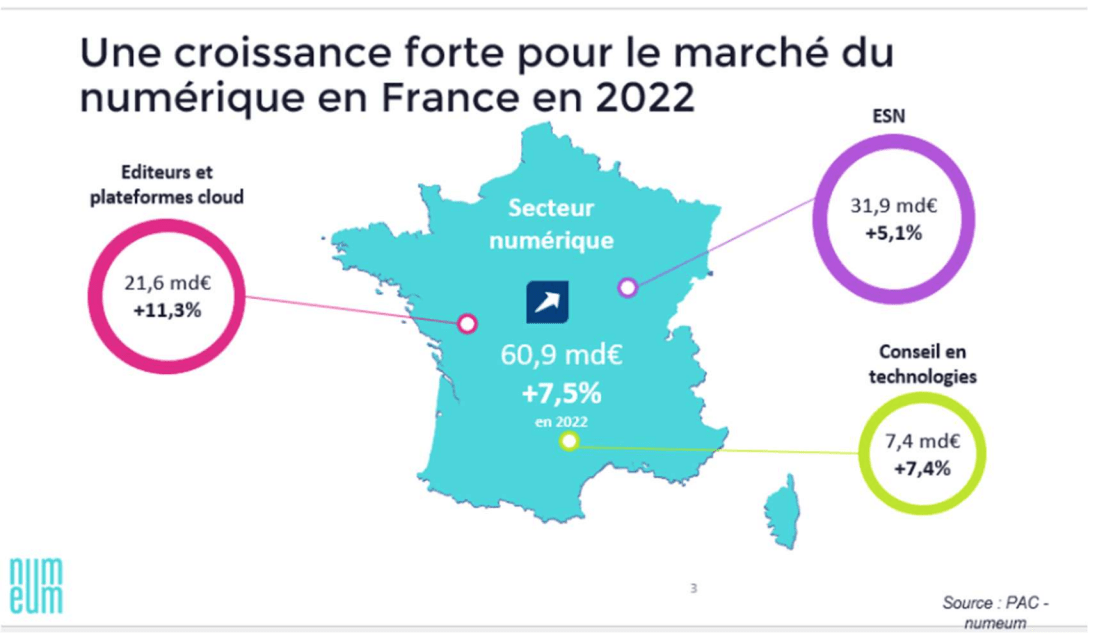 Second complicated period: end of 2022/beginning of 2023 which were marked by the consequences of the war in Ukraine. The global economy remains disrupted with the energy and food crisis, debts and inflation.
Despite this unstable economic and geopolitical context, digital industry continued to grow. It was almost a surprise when the institution revised its estimates and realized in December that it was not a +7.4% but a +7.5% growth for 2022. The first figures for 2023 are also promising : a 5.9% increase is announced.
Overall, the growth in 2022 is estimated at :
For Publishers and Cloud Platforms: +11.3
For Digital Services Companies (DSC): +5.1%.
For Engineering and Technology Consulting (ICT): +7.4
In total, we learn that "the size of the digital market is estimated at 60.9 billion euros in 2022: 35.5% of the market for software publishers and cloud platforms with 21.6 billion euros in revenue, 52.4% of the market for NSEs with 31.9 billion euros and finally 12.1% for Engineering and Technology Consulting activities with 7.4 billion euros."
An attractive and recruiting market…
Indeed, with such a large market share, the digital sector is undoubtedly a job creator. According to sources from Numeum, BIPE and ACOSS data, the number of employees in the digital sector was 572,126 in 2021, with a net creation of 34,000 salaried jobs that same year. This surge seems to continue since "recruitment is up 66% and stable at 24% in the second half of 2022." One way to explain this increase would be the increase in IT budgets of companies that seems to boost growth in 2022. According to a survey of 100 CIOs conducted by PAC for Numeum, 48% of CIOs say their IT budgets will increase in 2022, up 10% from 2021.
According to the daily requests we receive, the most sought-after positions by private companies are for IT development experts (software integrators; IA). The highest increase occurs in the industrial and technical IT and Big Data professions, in terms of job offers in the first half of 2022 compared to the first half of 2021.
… but also experiencing a talents war.
However, digital companies are facing a talent shortage. This is not a recent problem, but it is becoming more and more prevalent, becoming a real brake on growth. Indeed, the evolution of new technologies is going faster than the number of trained talents and young entrants in the sector to deploy the latest innovations in this field.
To retain and attract these talents, companies can rely on several levers: the quality of onboarding, the prospects for development, the commitments made to their employees such as the implementation of telecommuting or remuneration in line with the market, etc.
You may also be interested in this article: Developing your employer brand, a major challenge to attract and retain talents
Île de France: a digital nerve center that's expanding more and more
Considered one of the most dynamic regions for digital development in France, Paris' region is home to a number of key players in the tech industry: unicorns, scale-ups, SMEs and the largest NSEs. This champion of the digital economy is home to the headquarters and subsidiaries of companies such as Blablacar, OVH Cloud, Doctolib, Sopra Steria, etc. It's no surprise that 50.3% of employees in the digital sector (IT services and software) will be working in the region in 2021 (according to NUMEUM).
Although Paris' region has historically had a monopoly on the digital sector and has the largest number of employees, "its share of French employment is tending to decline in certain professions, as other dynamic regions take over," the Numeum report notes. Proof that the digital industry is not only concentrated in Paris, but is also spreading throughout France !